According to the report "The Economics of Biodiversity: the Dasgupta Review", there has been a 70% decline in biodiversity since 1970.

The data collected by the European Commission during the last 12 years in the 27 countries of the European Union, shows that 72% of the 231 habitats surveyed is now compromised (ranging between 40% as unfavourable and 32% as severely unfavourable).
The activities we support, in cooperation with specialised partners, aim to halt the destruction of natural habitats on land and at sea, and to restore an equitable territorial distribution that respects wildlife, ecosystems and biodiversity.
Over the next ten years, we will allocate an overall budget of about € 20,000,000 to these actions.
3 marine protected areas in Sardinia
Save the Diaccia Botrona and Padule Aperto Nature Reserve
The Livestock Guarding Dog
The "La Ninna" Hedgehog Recovery Centre
Habitat: the geography of others
x
LIFE Natur'Adapt
The LIFE Natur'Adapt project aims to integrate climate change issues into the management of protected natural areas.
Programmed over 5 years (2018-2023), it is coordinated by Reserves Naturelles de France, based on a collective, dynamic and effective process of development methodologies/protection techniques with 10 other partners:
EUROPARC;
Muséum National d'Histoire Naturelle;
Tela Botanica;
LPO;
Asters – CEN de Haute-Savoie;
Fédération des réserves naturelles catalanes;
Parc naturel régional du Morvan;
Parc naturel régional des Volcans d'Auvergne,
Association Petite Camargue Alsacienne;
Fondazione Capellino.
For 18 months in the period 2019-2020, 6 French sites, including Tourbières du Morvan RNR, experimented with targeted methodologies to manage ruinous climate change. In 2021 another 15 sites tested these methodologies, and were able to improve them right from the first feedback obtained. In 2023, this will lead to the creation and implementation of appropriate tools for all European nature reserve managers, as well as a methodological guide and training platform for sharing and collaborating, and exchanging information. For more details, visit:
https://naturadapt.com/
x
3 marine protected areas in Sardinia
The restoration and expansion of MPA (Marine Protected Areas) are important actions for the protection of habitats and marine biodiversity.
The three underlying Sardinian projects address a crucial ecosystem heritage:
Capo Carbonara (Villasimius):

MPA of 14,360 hectares, provides for the cleaning and recycling of pollution from ALDFG (Abandoned, Lost or otherwise Discarded Fishing Gear), and the extension of the protected area (ongoing) with Min. Trans.ne Ecologica that would bring it to 20,000 hectares. An Intervention of €74k, over 2 years from January 2022. Dr. Fabrizio Atzori Director MPA, specialising in Marine Biology.

Capo Caccia (Isola Piana):

a complex of 100 submerged caves with diverse biodiversity and at least 5 habitats considered crucial and a priority for the EU. The proposal focuses on a direct intervention to protect local marine habitats, through the installation of four mooring lines in the extreme southern portion of the promontory of Capo Caccia, where dive sites are more concentrated. An Intervention of €20K, over 1 year from January 2022. Dr. Mariano Mariani Director AMP, and the Special Park of Porto Conte.

Asinara National Park & Marine Protected Area:

the aim is to extend the perimeter of the MPA from 11,000 hectares to 17,000 hectares, and to improve local fisheries management measures in addition to habitat recovery and biodiversity conservation. An Intervention of €50K, over 2 years from January 2022. Dr. Vittorio Gazale Director AMP, and the National Park.
Interventions are irreversible and so is the extension of the protected area.
The management remains under the aegis of the AMP/Managing Body supported and backed by the Ministry of Ecological Transition/Ministry of Environment and Local Authorities from which they receive contributions proportionate to the size.
For further information, visit:
https://www.bluemarinefoundation.com/
x
Save the Diaccia Botrona and Padule Aperto Nature Reserve
A public area of Maremma Toscana, covering an area of 950 hectares, partly in the Diaccia Botrona Regional Nature Reserve (200 ha) and partly in the adjacent area of the Padule Aperto (750 ha), was about to be sold to private individuals.
Fondazione Capellino Fondazione Capellino decided, in accordance with its primary objectives of safeguarding and restoring natural habitats, to take a stand ( with an open letter addressed to institutions, associations and citizens) alongside WWF Grosseto, CERM Centro Rapaci Minacciati, GOM Maremmano Ornithological Group that launched a petition that has already collected over 50,000 signatures. The Lipu – BirdLife Italy is also mobilizing at a European level, with the partners of Birdlife International, so that the area will be guaranteed the right end use and the best conservation.
WHAT ARE WE DOING NOW?
We have asked to suspend the sale for 90 days in order to allow us to study the dossier.

We are drafting an alternative project that, on a scientific basis, will lead to the increase in biodiversity, to protect species of community interest and conservation, such as cranes, wild geese, and birds of prey that frequent the Padule Aperto, as well as propose the creation of an International Centre for Biodiversity Studies to ensure this outcome. The project will create qualified job opportunities locally, and will also bring in the help of experts at a European level.
Firma la petizione, agisci ora
x
LIFE WolfAlps EU
A European project that has the Park of the Maritime Alps as its area of intervention, and involves 20 other organisations in Italy, France, Austria and Slovenia.
The object of project 'Life' is the wolf and its coexistence with human activities throughout the entire Alpine ecosystem. Fondazione Capellino is the biggest financier, second to the European Union, with a budget of €600,000.
In addition, a supplementary agreement between Life and Almo Nature has been made whereby the latter provides free kibble for anti-poison trained dogs operating in the Alps. The activities of the project, to which Fondazione Capellino donates its contribution, are:
the creation of ecological corridors;
the strengthening of anti-poison dog units and their activities;
the monitoring of the presence of wolves in the Alps;
the strengthening of support teams for the prevention of predation in mountain pastures;
the mitigation of conflict between human activities and wolves;
General expenses.
To Learn more, visit: Life WolfAlps
x
The Livestock Guarding Dog
The National Park of the Casentinesi Forests, Mount Falterona and Campigna.
The project, promoted by the National Park Authority of the Casentino Forests, Mount Falterona and Campigna, is aimed at mitigating the conflict between farmers who operate in the protected area of the Casentino Forests and the wolves that inhabit the area. Among the activities, the correct use of farmer's livestock guarding dogs as the main tool of defense against predation is promoted. Fondazione Capellino supports the Park Authority through the free supply of Almo Nature kibble, ensuring a daily ration to each of the guarding dogs involved in the project: since 2017 over 24,000 meals have been donated, which corresponds to about 15,000kg of food. Read more at: Nationalpark Foreste Casentinesi
x
The "La Ninna" Hedgehog Recovery Centre
Forest hedgehogs are a species that has become vulnerable in Europe. The "La Ninna" Recovery Centre offers temporary care and shelter in winter to lost, sick or injured hedgehogs – before returning them to nature in the spring – or a permanent home to those too weak or disabled. Fondazione Capellino supports this project through the donation of about 3,000kg of Almo Nature Kibble, thanks to which the over 400 hedgehogs that find a home at "La Ninna" Hedgehog Recovery Centre can be fed every day. For more information, visit: "La Ninna" Hedgehog Recovery Centre
x
Habitat: the geography of others
Made in 2021 by Lorenzo Colantoni, and funded by Fondazione Capellino, "Habitat: the geography of others" is a scientific research film documentary that reinterprets Europe through its natural habitats, without the boundaries of political geography, and looking beyond the physical geography.
Since 2018 we provided these projects with 182,228 solidarity meals to guarding dogs and anti-poison dogs, plus 103,840 meals to hedgehogs, for a total of di 96,306 kg of kibble.
CRAS of Genoa (Wild Animal Recovery Centre)
"Survivors of Homo Sapiens"
Born Free – Caretta Caretta (Loggerhead) Sea Turtle
x
Detection dogs in Benin
The project was conducted by IFAW France (International Fund for Animal Welfare) between the second half of 2019 and the first half of 2021 as part of the fight against poaching in Benin
Fondazione Capellino has participated in providing, through Almo Nature, about 12,000kg of kibble to dogs engaged in fighting against poachers and disrupting international trafficking and smuggling of protected exotic species. For more information, visit:
https://www.ifaw.org/eu/news/almo-naturefondazione-capellino-partners-with-ifaw-in-benin
x
CRAS of Genoa (Wild Animal Recovery Centre)
In May 2021, Fondazione Capellino financed the second part of the X-ray equipment for the CRAS (Centro Recupero Animali Selvatici – Wild Animal Recovery Centre) in Genoa.
This portable technology is essential to enable timely diagnosis even in outdoor areas, avoiding the need to transport injured animals to a clinic or a veterinary clinic. Any intervention is therefore made more prompt and effective, saving further suffering and stress to the wounded wild animals. For more information, visit:
x
"Survivors of Homo Sapiens"
A short film by director and naturalist photographer Paolo Rossi, author of "Felis – gatto sarvægo".
The short film was made in the spring of 2021 and premiered at the Attraverso Festival in Borghetto Borbera in September of the same year. It is a film about the resistance of wild species to the expansion of rural civilization in the Ligurian and Piedmontese Apennines. Fondazione Capellino fully financed the implementation of the project.
x
Save the Moon Bears
An international operation carried out in June 2020 in collaboration with the Association "Salviamo gli Orsi della Luna",
the Lithuanian Ministry of the Environment, the Lithuanian organization "Gyvunu Teisiu Apsaugos Organizacija" and the National Park of Abruzzo, Lazio and Molise. The operation allowed for the transfer of three European brown bears (one male aged about 10 to 15, and two females, one very old, almost 30, the other over 10 years old) to Pescasseroli at the National Park of Abruzzo, Lazio and Molise Visitor Centre from the Lithuanian town of Joniskis, where they were held in captivity in serious deprivation. For more information:
x
Born Free – Caretta Caretta (Loggerhead) Sea Turtle
Most sea turtles are at risk of extinction due to global warming, human settlement, rising sea levels, poaching and plastic waste.
The aim of the project was to protect the hatching of Caretta Caretta turtles, particularly in 8 nests in Southern Italy. The operation was carried out between June and September 2019, to which Fondazione Capellino donated mobile solar devices to 3 sites allowing them to be self-sufficient with an electricity supply. This also allowed the stationing of 32 fixed Enpa volunteers and other workers who monitored the hatching of 412 specimens (with 80% success) in 5 municipalities between Salerno and Naples. An awareness-raising campaign has been launched in school districts and seaside resorts with the collection of plastic from the beaches, and is aimed at creating a more responsible attitude towards a plastic-free modality. For more information, visit:
http://www.enpa.it/it/68408/cnt/attivita-sezioni/progetto-nate-libere-per-la-tutela-delle-tartarugh.aspx
x
Farmers & Predators
During the 5 years of this activity, between 2014 and 2018, the Farmers&Predators project involved, thanks to the mediation of National Parks and Associations,
over 300 farms throughout Italy and 1,200 guardian dogs, to which over 450,000 Almo Nature meals were donated. Among others, the partners of the project were:
DifesAttiva Liguria,
Canis Lupus Association,
Union Communes of Garfagnana,
Pollino National Park,
ADGP Association,
DifesAttiva Maremma,
Parco delle Foreste Casentinesi,
Veneto Region.
Thanks to the experience of Farmers&Predators, the involvement of Almo Nature and Fondazione Capellino in the LIFE WolfAlps wolf protection projects, promoted by the Parco Alpi Marittime (APAM) between 2013 and 2018 came about. This collaboration then extended to the European LIFE WolfAlps II project, still in progress, of which Fondazione Capellino is the main financier second to the European Union.
x
Life WolfAlps I
In the beginning, Almo Nature's focus was on two key areas of LIFE WolfAlps (2013-2018): the struggle against poaching, conducted by the first K-9 anti-poison squads in the Alps (starting from 2015) and the prevention of wolf attacks grazie thanks to the livestock guarding dogs (starting from 2014).
The company offered direct support to both K-9 units on-site and to the 45 dogs involved in protecting livestock from the natural predators' attacks. This was granted through donating a free supply of about 48,000 Almo Nature meals. These donations still occur today. The role of Fondazione Capellino-Almo Nature within LIFE WolfAlps project (2019-2024) enhanced, making it the largest contributor after the European Union.
x
Just Freedom
Almo Nature's first aim was protecting the wolf: the financing of Just Freedom dates back to 2014. It was one of the first European areas to be completely devoted to recovering wolfs that were wounded or victims of poaching, with the only goal of rehabilitating them to get back to their free life in the wilderness.
Just Freedom was developed in collaboration with the "Centro Tutela e Ricerca Fauna Esotica e Selvatica – Monte Adone", to which Almo Nature donated around 100.000 euros in 2014. We have our hearts filled with the stories of Spartaco, Cecco, Frodo and Mirco, the first four specimens of wolfs that were found wounded, then cured and set free. With this first amazing experience, Almo Nature was even more motivated to further their commitment to the cause. That's when the project Farmers&Predators was born, fully dedicated to facilitating the cohabitation of men and wild animals, wolves in particular. The project being developed continuously until 2019, Farmers&Predators' goal was to mitigate some frictions existing between farmers and natural predators like wolves and bears. Through the action #ReduceTheConflict it supported farmers who believed in protecting their herds from predations with the mere help of guarding dogs, thus refraining from killing the predators. In 5 years of its activity, Farmers&Predators brought on board, thanks to the work of mediation of National Parks and Associations, more than 300 farms in Italy, 1,200 guarding dogs and donated over 450.000 Almo Nature meals. Among the main partners, we would like to mention: DifesAttiva Liguria, Canis Lupus Association, Union of Garfagnana Municipalities, Pollino National Park, ADGP Association, DifesAttiva Maremma, Foreste Casentinesi National Park, Veneto Region and many more. Thanks to the Farmers&Predators experience, the collaboration between Almo Nature – then Fondazione Capellino too – and LIFE WolfAlps projects, which were promoted by dal Alpi Marittime National Park (APAM) to protect wolves and facilitate a peaceful coexistence.
This is
Reintegration Economy
Everything you read on this page is made possible by Reintegration Economy. A new economic model: it provides that the ownership and 100% of the revenues of a company (after costs, investments and taxes) do not just benefit the few but are made available to all living species and their common home, the Planet Earth.
This company is Almo Nature, fully owned by Fondazione Capellino.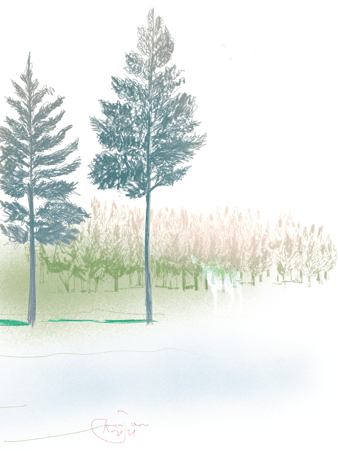 Subscribe to the newsletter!
Sign up for our newsletter to receive updates on our projects. We will only send you communications when we have something interesting to tell you.